Tuesday, January 04, 2005
Tales From the Trauma Service IV....
This is one of those cases that if I never see one again during my career it will be too soon. Be warned, some of the images are very disturbing.
20-ish restraint status unknown driver in a single vehicle collision. Questionable loss of consciousness. Impressive finding on physical exam (which I will reveal later). Some select views of his CT scans:


Air surrounding the right kidney and a questionable pneumoperitoneum:


Even more air. Here are some images from the CT of his lumbar spine:


Appears to be a L1 compression fracture on the reconstruction.


Ouch!! So off we go to the OR for bilateral chest tubes (he had bilateral pneumothoracies on CT) exploratory laparotomy and reconstruction of his abdominal wall. The following images may not be suitable for all viewers:
[
]
[
]
[
]
[
]
[
]
[
]
[


[
]
[
]
[
]
[
]
[
]
[
OK YOU WERE WARNED!!!!
[
]
[
]
Here is how he presented to the ED. This photo was taken in the OR after application of a betadine scrub:

From the left.


And from the right. The most medial tissue seen in the left-sided incision is the posterior rectus sheath. Moving along: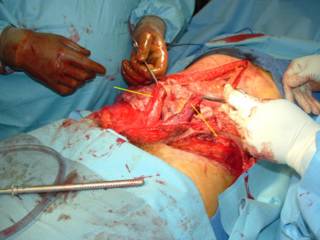 Here are the right and left inferior portions of the rectus muscles. Remember this was done during the collision, probably by the seat belt. The superior portions had retracted upward.


The cecum is to the patient's right. Highlighted is a portion of denuded small bowel. Several other mesenteric tears were found in the last 21/2 feet of small bowel. The overlying bowel was intact and appeared to be perfused. This was confirmed by a Wood's lamp exam after injection of fluorescein. The segment pictured above was resected and an ileocolic anastomosis performed. Did a rather extensive lookaround. The duodenum was Kocherized and both kidneys were reflected medially. It was then time to put his abdominal wall back together.
The skin and subq fat were separated along the left flank posteriorly that I felt the tips of the 11th and 12th ribs. It extended to the posterior axiilary line on the right. The transversalis and oblique muscles had been divided on the left. I reapproximated them using their fascial layers to hold the suture. There was no good way to reapproximate the rectus since the muscle would not hold a stitch. The posterior sheath is not strong enough to serve as a definitive repair on its' own. I brought the midline together as best as I could and placed an absorbable mesh over the midline. I had considered some acellular porcine collagen, but the stuff we had was only 2X7 cm. The mesh's main purpose was to prevent evisceration should the fascial repair fail in the short term. The key words here are "in the short term" since it is inevitable he will get a hernia.
The skin edges were debrided and undermined inferiorly. A large sump drain was placed in either flank and some JP drains were placed anteriorly. The finished product:


He is undergoing an ORIF of his spinal fracture at this time. Time will tell how the wounds do. I'll keep you updated.

Labels: Tales from the Trauma Service
|