Friday, January 14, 2005
Bariatric Surgery Follies.....
From the Wall Street Journal:A Doctor's Version Of Obesity Surgery Raises Some Bile:
In a nation of epidemic obesity, weight-loss surgery is booming. The number of such procedures, almost all of them stomach reductions, rose 36% last year to 141,000, five times the 1999 level, according to the American Society for Bariatric Surgery.

One of the field's busiest practitioners is Robert Rutledge. Garnering patients via his Web site and local seminars, the 53-year-old surgeon charges $17,000 for his version of the surgery, undercutting the $25,000 to $30,000 typically charged for the standard procedure, known as a "gastric bypass."

Dr. Rutledge calls his variation, which is briefer and involves a shorter hospital stay, the "minigastric bypass." In the past two years, he has opened minigastric programs at hospitals in Florida, Michigan, North Carolina, California, Missouri and Arkansas.

Doctors at these sites receive training from Dr. Rutledge, who receives a portion of the fees for each surgery they do. He says about 50 minigastrics are being performed each month, with about 3,000 done since he began using the technique in 1997.
Ah, the great surgical tradition of fee-splitting. Moving along:

Dr. Rutledge promotes the minigastric as a safer alternative to conventional stomach reduction. Many doctors, however, say the minigastric is nearly identical to a form of weight-loss surgery that was abandoned in the 1970s because of concerns about cancer risk and the churning up of intestinal bile into the esophagus and stomach. The "reflux" of bile, an alkaline liquid secreted into the intestine that the body uses to break down fat, can produce burning chest pain and gagging and also lead to serious irritation of the esophagus.

As with the earlier surgery, Dr. Rutledge uses a type of hookup between the intestines and the stomach called the Billroth II. A 1985 study of 28 patients published in the journal Surgery found that those who received the Billroth II hookup had 13 times as much bile in their stomachs as patients who had conventional stomach reductions. A 2002 study of 91 patients by Japanese researchers found 31% of Billroth II patients suffered from bile refluxing into the esophagus, compared with 1.6% of patients with conventional surgery. The study appeared in the World Journal of Surgery.
The Bilroth II gastrojejunostomy (or "Billroth") and the related Bilroth I have been a mainstay of gastric surgery for a variety of conditions for many years. Named for their inventor, Christian Albert Theodor Billroth.
The Bilroth I:



and the Bilroth II:



Both of those procedures have well-known complications such as "dumping syndrome" and "afferent loop syndrome". Ok, enough of history, back to the article:
Complicating the debate is a shortage of safety data about Dr. Rutledge's procedure. He says he tries to follow up regularly with all the patients who receive operations from him or a doctor he has trained by sending them written or e-mail questionnaires. But these methods are open to bias: People might not accurately self-report their weight or other data, and those with bad experiences might not respond to the requests for information.

Dr. Rutledge hasn't carried out any studies comparing his surgery to other procedures; he says that's because other surgeons have a vested interest in the status quo and refuse to participate. He has published only one article for a medical journal about his procedure. It appeared in June 2001 in Obesity Surgery and was based on data from his questionnaires.
Dr. Parker smells something here. Look at #19 and #23 here to see what I mean. This guy seems to be leaving trouble all around:
Five doctors who practice near Dr. Rutledge's clinics say that collectively they have treated 50 patients over the past six years for side effects from the operation. "That is why no one believes his data," says one of the five, Adolfo Fernandez Jr., a professor of surgery at Wake Forest University School of Medicine. In about two dozen cases, these doctors say the patients had to have corrective surgery to undo the operations that Dr. Rutledge or one of his followers performed. About a dozen patients who have had the minigastric procedure said in interviews they suffered from bile reflux bad enough to lead to serious symptoms.

The surgery is simpler to perform since there are fewer staple lines, as seen here in this side-by-side comparison: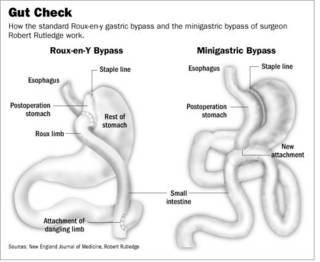 It seems as if patients are trading short-term gain for long-term consequences. In reference to #19 above:
Dr. Rutledge has a following of former patients who refer to him in reverential terms. Randall Edwards, a lawyer from Reno, Nev., started doing some legal work for Dr. Rutledge after having the minigastric procedure. He says he lost 158 pounds following the surgery in December 2003 and is no longer plagued by sleep apnea and other health problems from his obesity.

"This guy can save your life," he tells a group of patients awaiting surgery by Dr. Rutledge and a trainee surgeon one recent morning at the Chino Valley Medical Center, outside Los Angeles.

Another proponent is Henry Fiala, a Toronto physician who lost 117 pounds after a minigastric performed by Dr. Rutledge in 2003. Dr. Fiala has sent 20 of his patients to the U.S. for the operation, which is paid for by the government of Ontario. He is impressed by the low mortality rate reported in Dr. Rutledge's self-collected data and the quick operating time. As for bile reflux, he says: "I have a lot of patients with bile reflux and it hasn't killed them. Of all the things that go wrong, that is not the worst thing to happen."
Just wait a few years.
Ms. Hanson considered the standard gastric bypass, but after finding Dr. Rutledge's Web site she decided she preferred his approach because it was less invasive. She traveled to Durham Regional Hospital in North Carolina, where Dr. Rutledge was then operating, and underwent the procedure in January 2000. It took a little under an hour, and she left the hospital two days later.

At first, "it was a dream come true," says Ms. Hanson. She says she quickly lost about 100 pounds, but within a year began to have attacks that started with a cold sweat followed by pain in her lower back. It felt "like someone was taking a hot dagger and just stabbing me," she says. The only relief came when she involuntarily vomited bile.

Other surgeons diagnosed the pain as bile reflux and told Ms. Hanson she needed to undergo new surgery to replace Dr. Rutledge's intestinal routing with the standard hookup. She did so in 2001 and says she hasn't had attacks since. Dr. Rutledge says he doesn't remember Ms. Hanson's case but says many doctors perform repair surgery when medication to treat the symptoms would also be effective. He says some doctors are jealous of his success and averse to innovation.
See #23 above.
Dr. Rutledge's recent past doesn't seem reassuring:
Dr. Rutledge says he stopped performing the surgery for several months in 2001 after some patients in North Carolina complained about complications, and Durham Regional suspended its minigastric program. The North Carolina Medical Board says it investigated the complaints, but never took disciplinary action against Dr. Rutledge. He began operating again at a different hospital in Statesville, N.C., and in 2003 began his expansion into other states. He recently moved to Las Vegas, where he is opening a center later this month, but spends much of his time on the road.

Another great tradition, itinerant surgery. Bariatric surgery can save lives, when done properly, unfortunately many put financial gain before patent safety, both long and short-term.
|