Sunday, June 27, 2004
WHY TRAUMA SURGEONS LOVE ULTRASOUND....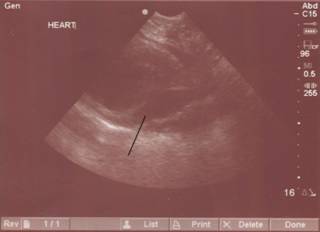 Posted by Hello

29 Y/O with a stab wound medial and inferior to left nipple. Hypotensive. Minimal response to fluids. Image is pericardial view obtained with a SonoSite Titan machine. Black line indicates fluid within pericardial sac. Taken to OR and explored with release of tamponade. 3mm wound on anterior right ventricle which was no longer actively bleeding. Pericardium left open and left chest tube placed. Pretty cool.
|